Fire Resistant Cabinet - Fireproof File Cabinet | Wholesale Best Cheap
Fire Resistant Cabinet - High Quality Fireproof File Cabinet with Competitive Price. Sourcing Fireproof File Cabinet from VIET NAM Now! Quality Assured, SGS Audited Suppliers. We manufacture and export best quality Fireproof File Cabinets. Wholesale Best Cheap. Fireproof File Cabinet Manufacturers & Suppliers‎
Fire Resistant Cabinet - Top 1 - High Quality - Genuin Product
WELKO is a Vietnam-based company established in 1999, a professional safe and manufacturing company specializing in theft proof safes, fireproof safes, hotel safes, bank vault doors and other security safe products. We have not only a large amount of precise equipment, but also a big professional team with members having more than 20-year experience Manufacturing, Marketing and Maintenance of safes with a high reputation. We exported to more than 22 countries in the world.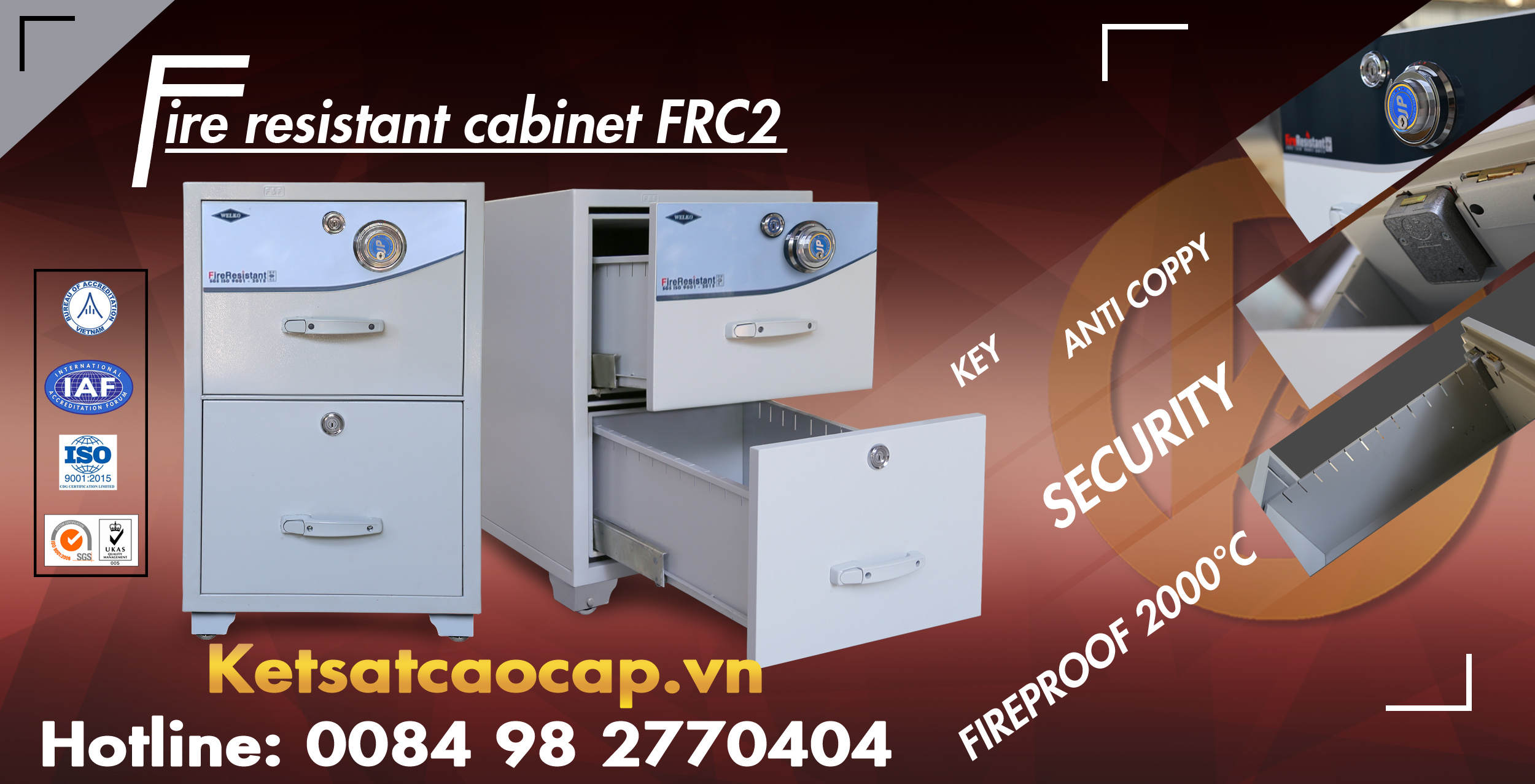 When is comes to FIRE RESISTANCE CABINET. WELKO has done a great job.
If your home or office is involved in a fire, what will happen to your vital documents? Could you realistically rebuild if all of your client contact information, financial data and inventory accounting paperwork was gone? WELKO's line of fire rated filing cabinets can help prevent this type of catastrophe by providing the high level of protection from potential fires, impact damage and damage from water coming from sprinklers and fire hoses. As the leading records protection provider, our comprehensive line of fire rated file cabinets fits your specified requirements and budget, making us the best choice for your personalized needs.
WELKO's FRC has many outstanding features:
- Smart-lock system and anti-copy key:
Fireproof cabinets have a mechanism lock and anti-copy key, which absolutely strenthen the security ability. Once the first drawer is opened, the other compartments can be opened.
- Standardized drawers:

The file compartment is large or medium, manufactured based on the European Safety Standard (GRYFITLAB) based on the long experience of experts in
America, Europe, Australia, Korea, in order to safeguard valuable assets, records and important documents for users.
✔ Fire-Proof File Drawer is specially designed to meet the highest Anti-Theft & Fire Protection for users who store and store important documents, files and valuable assets. other.

✔ Fire-Proof Drawer is designed with intelligent functions inside such as dividing into drawers, suitable for all types of documents - records to help users easily store, store and easily Search when needed.
- Anti-breaking latch System:
A strong point that cannot be ignored when it comes to Fireproof Cabinet Design of the head compartment with a code-lock top, only when the head compartment is opened, the other compartment be opened, the wings have handles for easy opening and closing.
than.
This special design helps to prevent flames from entering the same fire protection layer to protect the safety of internal assets in the event of a fire or explosion.
Cabinet door is made of high quality thick steel emulsion certainly safe when subjected to strong impact from outside.
- Standardized design:

Fireproof Cabinet

has a beautiful, durable and solemn design. The compartment security design increases the safety of important documents and documents. In addition, Fireproof Filing Cabinet is used stone paint technology, you will have a shiny Cabinet, do not fade over time, scratch, rust and oxidation. Locks combined with foreign handles, helping us to conveniently open the cabinet door.
- Fireproof ability: Fireproof cabinets with up to 1200°C fire resistance within 2 hours help protect documents and assets in an emergency.
-
Flexible-wheel system:
Fireproof Cabinet Fire Resistant Cabinet cabinet legs are arranged with 4 solid-steel wheels to make sure the convenience of moving.
Drawers are made of glossy steel, strong opening and closing ability.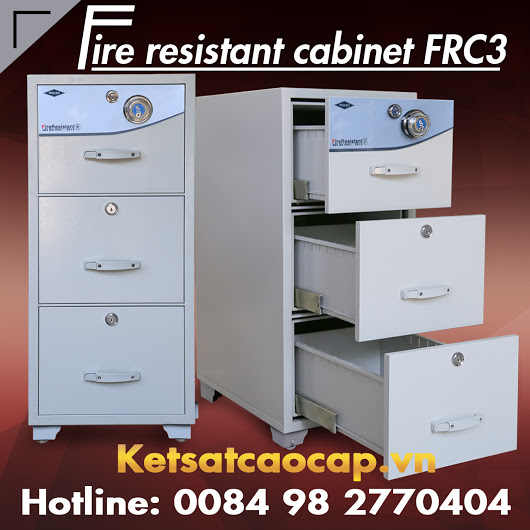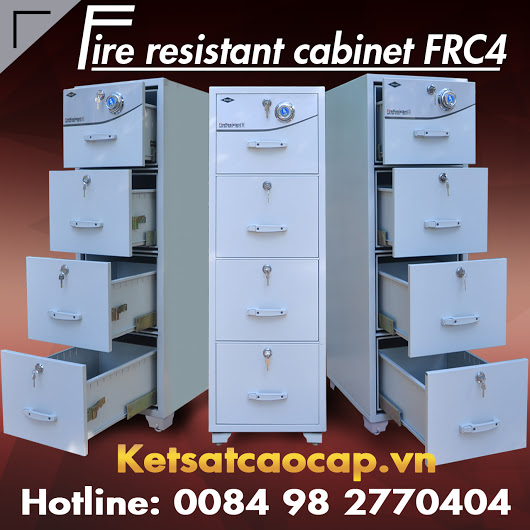 - Luxury color: Fireproof Cabinet is covered with thick, glossy, smooth and anti-peel paint layers, anti-rust. Specially used primer specialized for anti-saline Ships in coastal areas of Vietnam
- ISO 9001-2015 standards:
Manufactured in accordance with European standards and ISO 9001: 2015 quality system management process issued by SGS Swiss certification organization and ISO 14001: 2015 product environmental certification issued by Australian certification organization.
With the key made in Germany, have a certificate of origin and safety certification according to European standards.
- Long-term genuin warrantty: Up to 5 years
Commitment to genuine and 100% new products
Fire Resistant Cabinet - Fireproof File Cabinet | Wholesale Best Cheap

♦️

If you want more information please contact us to give you more details of our services

♦️

Vietnam Bank Material Equipment And Vault Safe JSC is located in Viet Nam

? Factory Address: Hoa Lac Hi-tech Park City Ha Noi

✅ Commit to only giving customers the best products.
✅ Working from 7am to 10pm all Saturday, Sunday and holidays
✅ Free consultation, instructions for use, warranty at home.
✅ Payment on delivery and thorough inspection (can be transferred)

✅ Any questions about the product or need advice on file cabinets explosion-proof.
? Please leave your phone number or INBOX directly for advice.
? Free Ship fast nationwide - Pay on delivery.
? Receive order safes on request.
? Factory Address: Hoa Lac Hi-tech Park City Ha Noi

? Free shipping Worldwide - Fast Delivery

?Hand phone/WhatsApp: +84 98 2770404

?Viber: +84 98 2770404

?WeChat ID: FactorySafes

? Email: [email protected]
Payment Information:
Viet Nam Bank Material Equipment And Vault Safe Joint Stock Company
Account: 8821100527009
Bank: Military commercial joint stock bank – West Hanoi Branch
SWIFT CODE: MSCBVNVX
•••••••••
Business registration No. 0101391913 issued by Department of Planning and Investment in Hanoi
Address: Dong Xuan commune, Quoc Oai district, Ha Noi city, Viet Nam.
?Best regards !